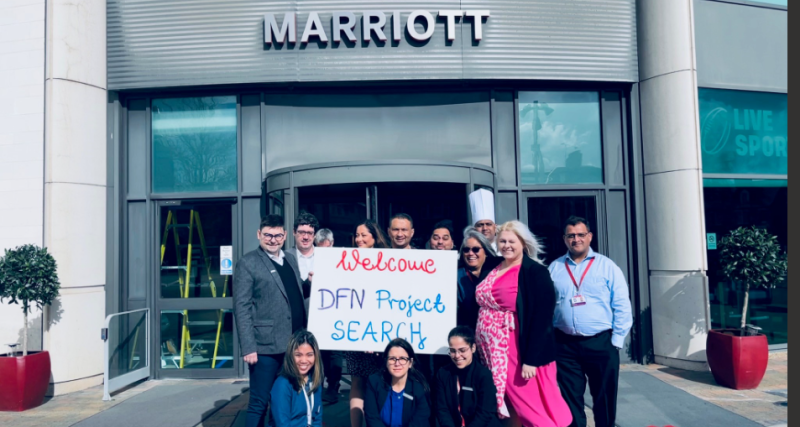 A new life changing supported internship programme for young adults with learning disabilities and/or autism spectrum conditions, has just launched at Marriott London Twickenham.
West Thames College in partnership with Marriott London Twickenham and national charity DFN Project SEARCH have formed a collaborative partnership to give young people with learning disabilities and/or autism vital work-based learning opportunities, to help them to secure competitive employment.
The pioneering programme involves total workplace immersion at its very best, facilitating a seamless combination of classroom instruction, career exploration, and hands-on skills training.
This local programme comes after DFN Project SEARCH recently launched a new employability campaign #InclusionRevolution, which aims to support 10,000 young adults aged between 18 – 25 with a learning disability or autism into paid employment by 2030.
The initiative highlights the shocking reality that only 4.8% of people with learning disabilities in England secure paid employment, compared to 80% of their peers. That means an astonishing 95% will be forced to live a lifetime on benefits.
DFN Project SEARCH is a national transition to work programme for students with learning disabilities and, or autism spectrum conditions, or both. They work in partnership across the public, private and voluntary sectors to create supported employment internships within private and public settings that these young people undertake during their last year of education, helping them to make positive transitions from education to the world of work.
With the largest data set in the UK, DFN Project SEARCH's evidence-based model challenges misconceptions and changes the way society views and enables young adults with learning disabilities and autism to ensure that they reach their true and full potential.
Tracy Aust, CEO and Principal of West Thames College: "We are delighted to be launching another DFN Project Search programme with our fantastic new partner – the Marriott, London Twickenham. West Thames have been running Project Search supported internships for 11 years and we have seen first-hand the transformational impact this has had on the lives of so many young people. It's not just the interns that benefit from these programmes but it's also the hugely positive impact on the College and the host employer. Here at West Thames, we've had the privilege of employing an intern and what a great appointment this has been. We are really excited to be working in partnership with the Marriott on this new venture."
Linda Hawkins, Marriott Multi-Property Director of Human Resources: "We are excited to welcome the DFN Project SEARCH programme to Marriott London Twickenham and are eager to support all the interns in gaining work experience to enable them to gain employment. We believe that this partnership will not only benefit the program participants but also enrich our hotel's culture and contribute to the broader community."
Debbie Robinson, CEO of Kaleidoscope Social Enterprise Ltd: "We are very much looking forward to building on our already successful relationships with Marriott London Hotels family, West Thames College, London Borough of Hounslow and DFN Project SEARCH, because we know first hand the positive impact that this transition to employment program can have on the young people we work alongside on their journey into paid work."

Nicky Bitar, DFN Business Liaison at the London Borough of Hounslow: "We are proud to be working in partnership with the Marriott London Twickenham, West Thames College, Kaleidoscope and DFN Project SEARCH. The Project SEARCH model provides brilliant support to young people with Education Health Care Plans providing them with all the tools and wrap around support needed to transition from education into full time meaningful paid employment. Collectively we are passionate to ensure this opportunity is maximised for our local residents."
For more information on how to enrol on the course, please contact Misie Butler on This email address is being protected from spambots. You need JavaScript enabled to view it.
About DFN Project SEARCH:
DFN Project SEARCH is a business-led, one-year transition to employment programme for young people with a learning disability and autism or both.
DFN Project SEARCH believes that everyone deserves the right to aspire to the very best future, yet 4.8% of people with a learning disability who are known to local authorities in England go on to secure full-time paid employment. Its ambition is to ensure that everyone with a learning disability or autism can attain high-quality, integrated employment in their local area.
The programme has supported more than 1,600 young people into paid work and has the aim to support 10,000 interns into work by 2030, and 20,000 by 2035.