Jelly Beans Pre-School Ltd commissioned our students to build a new mud kitchen that their little ones could play with as well as aide their development and sensory skills.

The project began with students constructing a frame for the kitchen in the carpentry workshop at the Skills+Logistics Centre in Feltham. After finishing the frame, they then went to the pre-school to reassemble the frame and clad it with decking boards. Finishing touches such as a sink, plywood hob rings and a shelf were added to complete an amazing mud kitchen that will bring many hours of fun for years to come.

Our students were really behind the idea and would love to go back to build more for the pre-school - who would also love to have them back!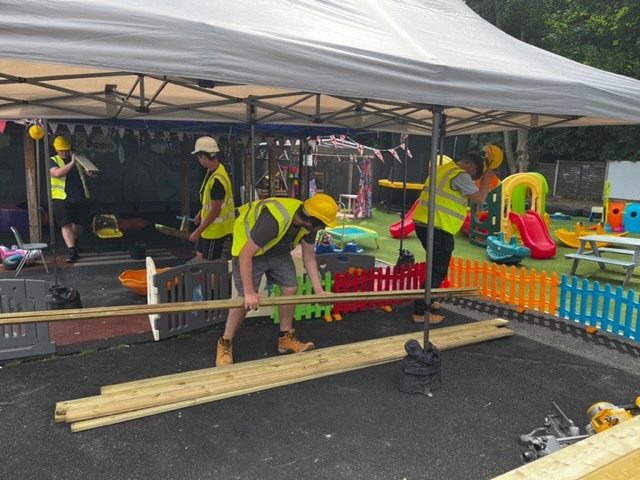 Svenja Doepel, Preschool Manager at Jelly Beans Pre-School Ltd, said: "I want to thank the Level 1 Carpentry students from West Thames College, who built our preschool's new mud kitchen. They did a great job and more importantly, they were polite and professional whilst on the premises with our small children around. The finished product is well-built and looks great - the children couldn't wait to play in it and have spent many hours enjoying the new equipment. The students did a good job and I hope they enjoyed the real-life experience of working with us. We would be more than happy to work on further projects with West Thames College's students."

Nick Noel, Lecturer in Carpentry and Joinery Construction, said: "I'm very proud of what they have achieved, they all worked really hard and thoroughly enjoyed themselves. This venture was an absolute success and gave our learners a real feel for what it is like to be out there and doing it for real."
Apply for a Carpentry course today.